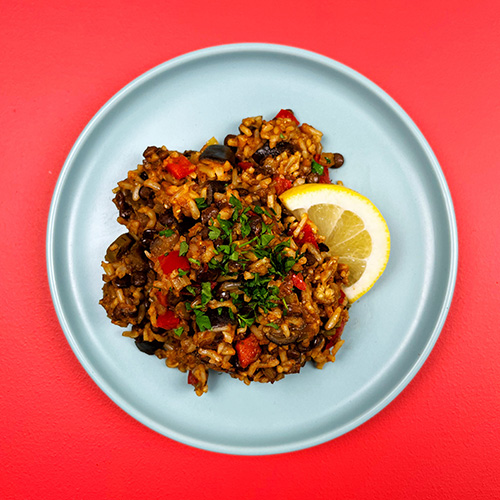 VEGGIE DIRTY RICE
SERVES: 5-6
INGREDIENTS:
1 Aubergine - Diced
4 Spring Onions – Green ends only, sliced
2 Celery Stalks – Finely sliced
2 Red Peppers – Finely sliced
240g Tinned Lentils – Rinsed & drained
500g Cooked Brown Rice / Rice Pouch
1 Tbsp Tomato Paste
Cooking Oil
1 Lemon
1 Handful of Parsley - Chopped
250ml Boiling Water
10g PANTORI Cajun Spice Blend (Half a pouch)
0.5tsp PANTORI Vegetable Bouillon
Salt & Pepper to taste
METHOD
Add 0.5tsp of your vegetable bouillon to 250ml of boiling water to make your vegetable stock
Over a medium heat fry the aubergine in 2tbsp of oil for around 5 minutes.
Add in the celery, red pepper and half of the spring onions and continue to sweat down, you can add a little more oil if needs be.
Cook down the vegetables until soft and starting to brown slightly, stirring regularly.
Add the tomato paste and Cajun spice blend to the veg and stir to combine.
Next add to the mixture the lentils and your vegetable stock and stir & simmer for 8-10 mins on a medium - low heat. The mixture should be moist not dry.
Add in your rice and fold into the vegetable mixture, leave on a low heat to warm through.
Squeeze in half the juice of a lemon and stir.
Garnish the rice with the parsley and a wedge of lemon.