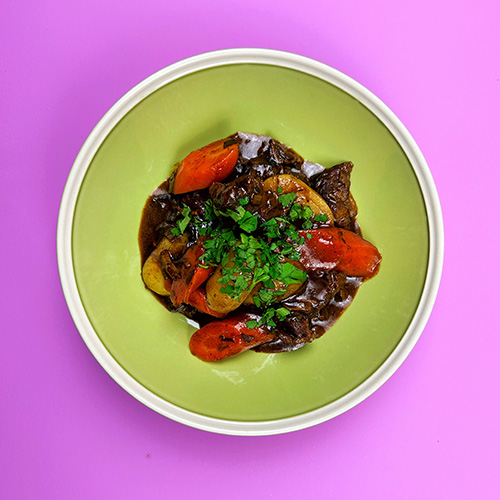 BEEF STEW
SERVES: 6
INGREDIENTS:
1.5kg Chuck steak (you want lots of marbling) - cut into 4cm pieces
Salt & Pepper to taste
Olive oil
Garlic infused oil
2 Tbsp balsamic vinegar
6 Spring onions – Green ends only, chopped
2 Stalks of celery – Finely diced
1 leek – green ends only, finely chopped
2 tbsp tomato paste
3 tbsp Gluten free plain flour
480ml dry red wine
1 Litre of Mushroom stock – PANTORI Mushroom bouillon in 1L boiling water
1 Bay leaf
4 large sprigs of Thyme
4 large carrots - peeled and cut into 2.5cm chunks on an angle
500g Baby or new potatoes – left whole
Fresh chopped parsley, for serving (optional)
METHOD
Preheat the oven to 165°C.
Pat the beef dry and season with the salt and pepper. In a large Lidded Pot / Dutch Oven, heat 1 tablespoon of garlic infused oil over a medium-high heat. Brown the meat in 3 or 4 batches, turning with tongs, for about 5 minutes per batch; add 1tbsp of oil for each batch. (To sear the meat properly, do not crowd the pan and let the meat develop a nice brown crust before turning with tongs.) Transfer the meat to a large plate and set aside.
Reduce to a medium heat and add the spring onions, celery, leek and balsamic vinegar; stir and scrape the brown bits from bottom of the pan, and cook down for about 5 minutes.
Add the tomato paste and cook for a minute more. Add the beef with its juices back to the pan and sprinkle with the flour. Stir until the flour is dissolved, 1 to 2 minutes.
Add the wine and leave for 2 minutes stirring part way through. Add the mushroom stock, bay leaf and thyme sprigs. Stir to loosen any brown bits from the bottom of the pan and bring to a boil.
Add in the carrots, cover the pot with a lid, transfer to the preheated oven, and braise for 3 hours in total, after the first hour add in the new potatoes. Return to the oven for the remaining 2 hours or until the vegetables are cooked, the broth is thickened, and the meat is tender.
Season to taste, if necessary, and garnish with fresh parsley.