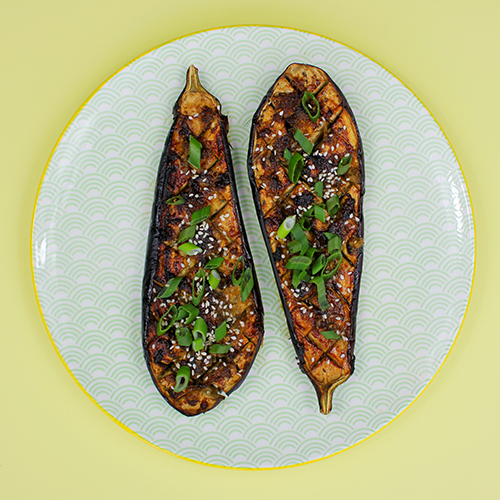 MAPLE & GINGER GLAZED AUBERGINES
SERVES: 4
INGREDIENTS:
2 Medium-Large Aubergines
1 Tbsp Sesame Oil
2 Tbsp Maple Syrup
Thumb sized piece of ginger - finely grated
1 Tsp PANTORI Mushroom Bouillon
1 Tbsp Tamari / Gluten Free Soy Sauce/li>
2 Tbsp Hot Water
2 Spring Onions - Green ends only - finely sliced
1 Tsp Sesame Seeds
METHOD
Preheat the oven to 200ºC / 400ºF
Using a medium-size mixing bowl add the bouillon, sesame oil, soy sauce, maple syrup, ginger and hot water. Mix all the ingredients until they are well combined.
To prepare the aubergines, cut them in halves lengthwise. Score the inside of the aubergine in squares making diagonal cuts. The cuts need to be deep but keeping the skin untouched.
Place some baking paper on a baking tray and lay out the aubergines, using a brush, coat the aubergines with the glaze. Leaving some of the glaze for later make sure a good amount is brushed on each aubergine now. Bake in the oven for around 30 minutes.
Remove from the oven and brush a little more of the glaze on the aubergines, leaving a final small amount for finishing. Return to the oven for 10 minutes.
When the aubergines are cooked, take them out of the oven and drizzle the extra glaze on the top, add finely chopped onions and sprinkle some sesame seeds.
We like to serve ours with brown rice, pickled cucumbers & a sprinkling of chilli flakes.