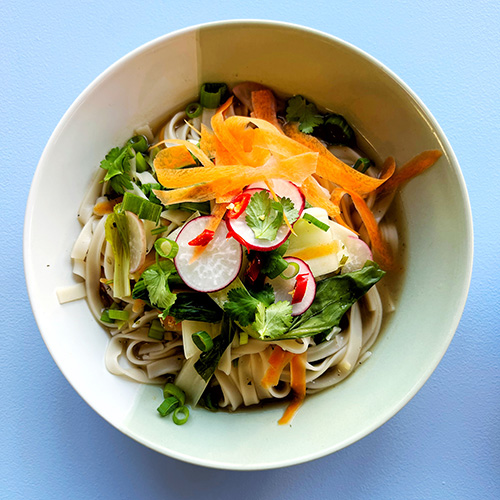 ASIAN NOODLE BROTH
SERVES: 5-6
INGREDIENTS:
PANTORI Mushroom Bouillon – 4 Tsp in 2.5 litres of boiling water
Thumb sized piece of Ginger – Peeled and chopped finely
1 Star Anise
6 Radishes – finely sliced
2 Bok/Pak Choi – Weighing less than 300g in total, each leaf sliced in half lengthways
1 large Carrot – Peeled into strips
3tbsp Gluten Free Soy Sauce / Tamari
4 Spring Onions – green ends only – finely sliced
Large handful of Bean Sprouts
1-2 Chillies – sliced (your preference on heat levels)
Coriander – leaves removed for garnish and stalks finely chopped
About 300g of Rice Noodles – I prefer the wide over vermicelli
Salt & Pepper to taste
METHOD
In a large saucepan on a medium-high heat bring your mushroom stock to a boil.
Add the star anise, ginger and soy sauce to the stock and keep on a very gentle simmer on a low heat while you prep the other ingredients.
To prep the carrot, use a peeler and rotating the carrot peel off fine strips of carrot and put to the side with the rest of your prepped veg.
With the stock simmering add in your noodles to begin to soften.
After 1 minute add in the radish, carrot, bok choi, bean sprouts and chopped coriander stalks.
Give it a couple of minutes simmering until the noodles have cooked through.
Serve and garnish with sliced chilli (to your liking), spring onions and coriander.