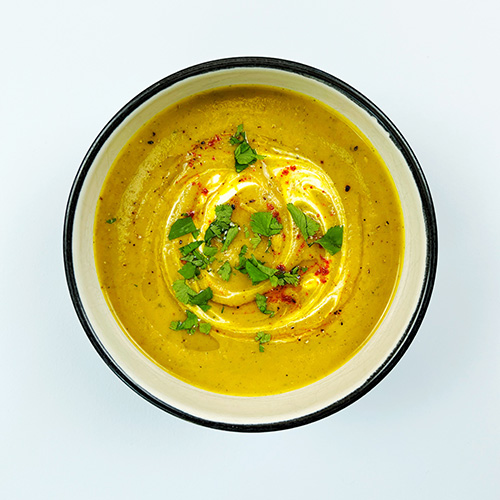 CARROT & CORIANDER SOUP
SERVES: 4
INGREDIENTS:
1 Knob of Butter
6 Spring Onions – green ends only - finely sliced
650g Carrots - peeled and roughly chopped
1 Potato - peeled and chopped
1 stalk of Celery – finely sliced
1 tsp Ground Coriander
2tsp PANTORI Vegetable bouillon – in 1 Litre of boiling water to make a stock
Salt & Pepper to taste
30g Fresh coriander – leaves and stems separated and chopped
2 tbsp Crème fraiche, plus extra for serving
Sprinkle of paprika to serve – Optional
*To make Vegan leave out Creme Fraiche and swap Butter for Oil*
METHOD
Melt the butter in a saucepan over a medium heat. Add the spring onions and celery and gently sweat down, stirring occasionally, for 4-5 mins until soft. Add the carrots, potato and ground coriander and mix well, season lightly with salt and pepper.
Pour the stock over the vegetables. Stir to coat and bring to the boil. Cover, reduce the heat to low and simmer for 30-35 mins until the vegetables are tender.
Remove the soup from the heat. Add the coriander stalks and two-thirds of the leaves to the soup, then blend until smooth using a hand blender. Add in 2tbsp of the crème fraiche and blend until fully combined, season to taste.
To serve, swirl a small teaspoon of crème fraiche into each and garnish with the chopped coriander leaves, a sprinkling of paprika and a twist of black pepper.