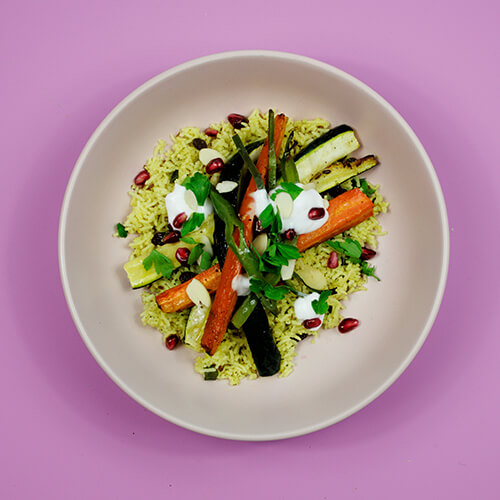 RICE PILAF
SERVES: 4
INGREDIENTS:
3 Carrots, quartered lengthways
2 Courgettes, cut into similar lengths to the carrot
150g Green beans, ends trimmed & sliced in half lengthways
4 Spring onions, green ends only, finely sliced
1 Tbsp Cumin Seeds, plus a little extra.
3 Tbsp Olive Oil
2 Tsp PANTORI Vegetable Bouillon
Salt & Pepper to taste
30g Almond flakes
50g Raisins
525ml cold water
300g basmati rice
Coconut yoghurt to serve
Handful of Parsley, chopped
80g Pomegranate seeds (optional)
1 Lemon cut into wedges
METHOD
For the roasted vegetables:
Preheat the oven to Fan 200°C and line a large baking tray with baking paper. Spread the carrots out on the tray, drizzle with oil and sprinkling of cumin seeds and season lightly with salt and pepper.
Roast in the oven for 20 minutes remove and add the courgette to the tray, tossing carefully through the carrot, return to the oven for a further 10 minutes.
Finally adding the green beans to the tray and tossing once more before returning to the oven for a final 20 minutes. Remove from the oven and use to top your Rice Pilaf.
For the Rice Pilaf:
Whilst the veg is roasting for its final 20 minutes you can start the rice. In a bowl soak your rice in cold water, give it a good stir and then drain.
Heat 2 Tbsp of oil in a large sauce pan over a medium heat. Add the spring onions and 1 Tbsp of cumin seeds and cook for 1 minute, add the rice and continue to cook for 2-3 minutes.
Add in the vegetable bouillon stir and add the water and turn up the heat to bring to a boil. Cover with a lid, reduce the heat to low and cook for 10 minutes until almost tender.
Remove from the heat, and fluff up with a fork, stir through the raisins and place the lid back on and set aside for 5 minutes to steam.
Stir in half of the flaked almonds and season to taste.
When serving sprinkle over the chopped parsley, remainder of the almond flakes and pomegranate seeds.
Top with the roasted vegetables, a drizzle of coconut yoghurt and serve with wedges of lemon.