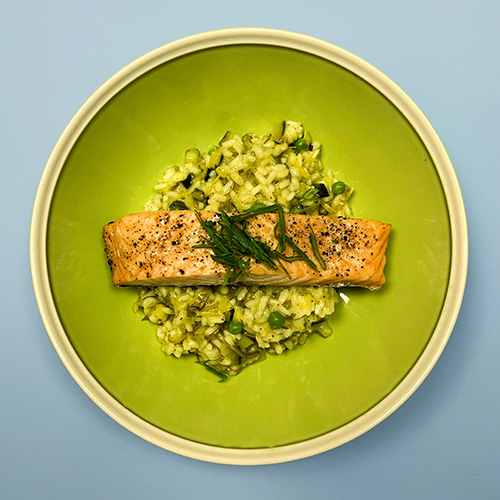 SALMON RISOTTO
SERVES: 4-6
INGREDIENTS:
3tsp PANTORI Vegetable Bouillon – in 1.5 litres of boiling water to make a stock
1 stalk of Celery – finely chopped
2 Leeks – Green ends only, finely chopped
4 Spring onions – Green ends only, finely chopped
1 courgette – finely diced, no more than 300g
50g Frozen peas
Olive oil
2 Large knobs of unsalted butter
300g Risotto rice
60g Freshly grated Parmesan – plus any extra for sprinkling
Salt & Pepper to taste
Lemon – Optional
Extra virgin olive oil – optional
1 Salmon fillet per person
125ml White wine – Optional
METHOD
Pre-heat your oven to 190°C and line a baking tray with baking paper. Evenly place your salmon fillets and season with salt and pepper, set to the side until you are ready for it to go in the oven.
Bring the stock to a very gentle simmer in a saucepan on a low heat.
Put 1 tbsp of oil and the leek and celery into a high-sided pan on a medium-low heat, add in a small pinch of salt and black pepper and cook for around 5 minutes or until softened but not coloured.
Add in the spring onions and courgette, mix well and turn the heat to medium. Cook for a further 5 minutes.
Add in the rice and stir for 2 minutes whilst it soaks up all the flavour from the veg.
Now add in the wine – if using – and stir until absorbed.
Add a ladleful of hot stock, stir, and wait until it's been fully absorbed before adding more – Save one ladle of stock for later.
Cook for 16 to 18 minutes, adding more stock every minute or so and stirring constantly. When you are halfway through this stage put your salmon in the oven and set a timer for 10 minutes.
Once the rice is al dente – cooked but still has its shape - stir in the frozen peas.
When your salmon timer goes off remove from the oven and cover with foil until you are ready to serve.
Your risotto should be slightly looser than you want it to be, as it will thicken as it sits, so add the extra ladle of stock. Turn off the heat, stir in the remaining butter and the Parmesan, then season to taste. Place the lid on and let it sit for 2 minutes before serving.
Plate your risotto and top with a salmon fillet, finish with a drizzle of extra virgin olive oil, an extra grating of cheese and squeeze of lemon juice per portion.