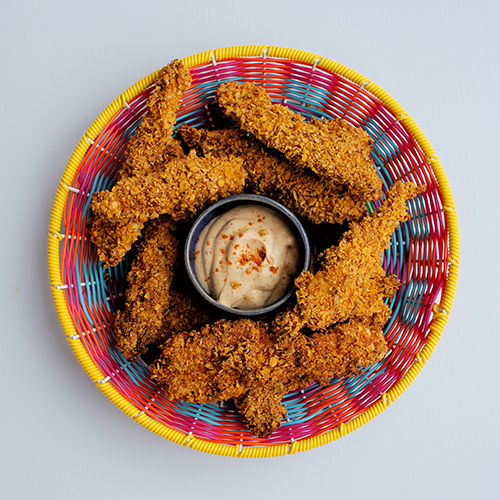 CRISPY CORNFLAKE CHICKEN
SERVES: 2
INGREDIENTS:
2 Chicken Breasts - cut into 5 strips per breast
Coconut Yoghurt - 2 Tbsp heaped (approx 60g)
10g PANTORI Fajita Spice Blend
75g Cornflakes - Crush to a crumb but not quite a powder
METHOD
Pre-heat your oven to 200C, line a baking tray with foil or baking paper to sit underneath a wire rack.
In a bowl mix together the coconut yoghurt and 1tsp of the fajita spice blend, add in the chicken strips and coat well.
Tip your crushed cornflakes onto a plate and mix the remainder of the spice blend in and coat the chicken evenly, pop them on the wire rack in the oven and bake for 18 minutes until they are nice and crispy, and the chicken is cooked through.
For a dip we like to add a sprinkling of the Fajita spice blend into mayonnaise and a squeeze of lime for a spicy, tangy dip.